St. Johns
Pier park
Creators: Army Corp of Engineers
Time: August 25, 2001
Size: ~ 7,500
Cost:
Rules: Sunrise to Sunset
Facilities:
Location: In Pier Park, at N Bruce Ave. and Hudson St. Pier Park is big. The skatepark is on the northwest end, near the city bus terminal.
Directions: Take N Lombard Street north through downtown St. Johns. In about 1/2 mile you should see Pier Park on the right. Go right on Bruce Ave and you'll see the skatepark on the left.
Map:
City Contact: Under the jurisdiction of Portland Parks and Recreation www.ci.portland.or.us

History:
Overall: Poor construction, poor design. Excellent ground rail (see bottom photo).

Brandon ollies off the ledge from the bowl.

Charlie Crooks using the transition to help his ollie.

Tyler nails and ice pick.

Kevin over the corner, X-Up.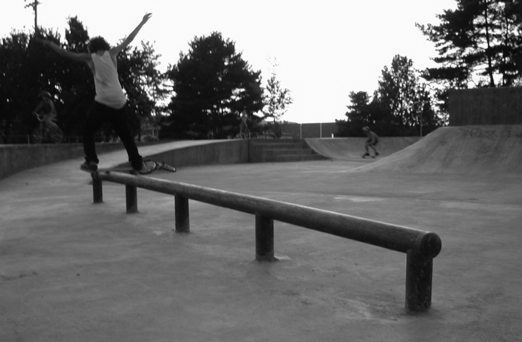 Brandon likes his rail well done, frontside boardslide on a proper rail.
new St Johns page