Jacksonville
"The Ledge" Skatepark

The Ledge is a great little park. A place for slow all day sessions with friends. It is a one to two person park at any one time, so people are always watching and cheering one another. Someone wrote in January 2006 and said the park was "mostly paid for through donations that the skaters raised." There was a set of full park plans floating around the net. In 2003 or 2004 there was a construction push to complete the park, but the effort was stopped short due to funds.

Location
Above the Railyard Public Parking Lot and below the Jacksonville Cemetary at C Street and Oregon Street.

Directions
Here is a map and directions from Medford.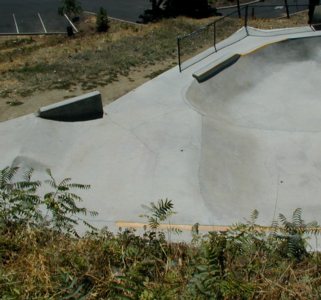 The kink is from splicing two photos. The coping is continuously straight, as the photo below shows.

This is looking uphill (the park has a slight grade). Can you see the pump bump above this sentence?