Molalla
Creators: Selena De La Cruz and Army Corp of Engineers
Time: 3 1/2 years to open June 24, 2000
Size: ~ 7600
Cost: The city has put in $8,000 and to help finish the skatepark, Molalla recieved a $30,000 Clackmas County grant and countless help from volunteers and in-kind donations.
Rules:
Facilities:
Location: At the Molalla Community Youth Center 209 Kennel St

Directions: From Hwy 213 hop on Hwy 211 and Kennel Street is an eastbound turn near the Copelands and Buckaroo Ford, one more block and you're there.
From 1-5, go East on Hwy 211 and then east again on Kennel St.
Map: Here is a map to Molalla.
City Contact: City Website
Molalla Community Youth Center (503) 829-1837

The City Recreation Coordinator 503-829-4162

Molalla Area Chamber of Commerce 503-829-2301

City Hall 117 N Molalla Ave, Molalla, Oregon 97038 503-829-6855

Parks and Recreation 503-829-4162
History: Check out Molalla Skatepark's website http://skateparkinvestors.tripod.com/
Overall: Though it was built really poorly, it is amazing how much Selena De La Cruz has done and continues to do for this park. The transitions are the most lethal in the state.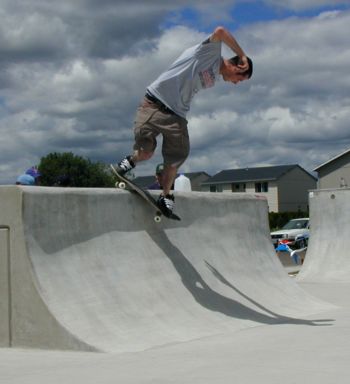 Brian Hoenig

As you can see the opening was a lot of fun.

Rob Collins