Myrtle Point

Creators: Designed by Eric Dawkins and Crow Clay & Associates; Built by Upper Valley Builders
Time: October 2001
Size: 10,000
Cost: $205,000
Rules: Bikes allowed but must cover pegs, helmets required.
Facilities: Drinking fountain, no bathroom, Dawn to dusk.
Location: 1st and Spruce St
Directions: I-5 or Hwy 101 to Hwy 42, West on Spruce St to 1st St.
Map:
Contact: No website found
City Hall
424 5th St
Myrtle Point, Oregon
(541) 572-2626
Crow Clay Associates
History: In 1998, some kids asked permission to put wood ramps on a tennis court in Myrtle Point. The city said yes and it was such a success that the city council budgeted $2500 for the inquirey and proposal of a skatepark. Crow Clay & Associates of Coos Bay took up the idea and has provided a diverse and challenging design -one part of the park has a 16' change in elevation.
Budget
By 2000 the city has $20,000 dedicated to the skatepark.
Oregon State Parks has donated $36,000.
The Ford Family Foundation (which also supported the Roseburg skatepark) has set up a challenge grant of $45,000.
The challenge is to the kids of Myrtle Point to raise their own $5,000, which will then be multiplied 8 times by the Ford Family Foundation.
The grand total is expected to be around $100,000.
Donations are tax deductible, if you would like to contribute please contact Myrtle Point.
Overall: A solid standard park. 7 out of 10
Special:


Dave Thom, back flip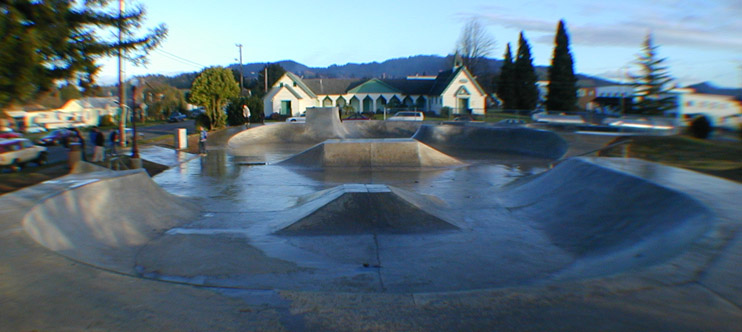 .