Reedsport
Lions Park
Creators: Airspeed Skateparks
Opened: September 23, 2003
Size: ~13,000 square feet
Location: Hwy 101 and S 22nd Street at the south/west end of town.
Directions: The park borders Hwy 101 and S 22nd Street is hard to miss driving up the highway.
Map: map
Cost: ~$300,000 (two phases, needs confirmation)
Hours: Daylight - dusk
Rules: Skateboards and inline skates only.
Facilities: Water fountain, bathrooms, adajacent park.
Contact:
Twinkie Goorhuis
www.reedsportskatepark.com

Movies: Here are several Reedsport skateboarding loop movies:
Lance Leisher: Lance looping Reedsport (1mb .mov)
Geth Noble: Two loops in one run (7.4mb .mov)
Geth Noble: Loop #32 (3.9mb .mov)
Geth best view (2.4mb)

Photos:
SkateOregon Image Archive: skateoregon.com/archive/oregon/reedsport
Directory Listing: skateoregon.com/Reedsport
All old photos on one page: Reedsport2.html
History: One of Oregon's best parks, not just because of the funnel but because it is an excellent blend of street and tranny. It has its big bowl, an element of pool, a fluid street section, and of course the funnel. Since it was first looped shortly after opening, many people from 40 years old to 15 years old have skateboarded a full loop in Reedsport's funnel. Mark Scott was first. Lance Leisher, a seventeen year old from Roseburg was second. Then Lance's 15 year old friend, Rion Linderman was third. A Virginia Beach loc, Packy Fancher, was on his westcoast adventure when he made it #3. Long-time Corvallis skater Josef Lindstrom was fourth. The Concrete Rodeo is an annual competition that helped start the loop fever, throwing down $1000 in 2004 to the first person to do it. No one collected. In contrast, so many people looped the following year in 2005, that it became a contest of endurance, with Geth Noble capturing it after ~40 loops in half an hour (needs citation). There are photos online of someone illicitly looping on a bike. Did he do a loop to loop, also? Any loop is gnarly. The funnel is 13' high at the small end and 17' at the big end. That's a tough fall from upside down. ReedsportSkatePark.com has a running list of skateboarders to accomplish a loop at www.reedsportskatepark.com/HallofFame.html. .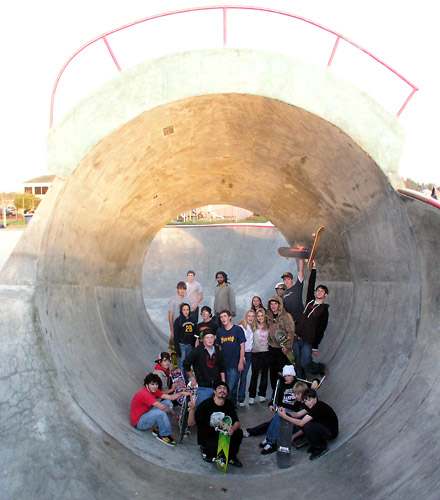 Unfortunately, the original Reedsport photos (such as above) were lost to technical error.
Many of the web versions can be seen by directory browsing here.